Embed LearnDash Quizzes Directly in Course, Lesson and Topic Pages
$39.99
(1 Site, Yearly License, Requires LearnDash 3.0 and above)
Now LearnDash site builders can easily embed quizzes directly into lessons or topics without extraneous mouse clicks and without confusion. Our new Quiz Embed for LearnDash plugin comes to the rescue. Finally it is easy to embed quizzes directly into LearnDash lessons and topics.
An essential part of any elearning course is to provide quizzes to engage the learner and evaluate learning progress and outcomes. These quizzes work great when they come at the end of a lesson or topic because they can be tightly focused on testing the information presented in the lesson or topic and can be leveraged to assure mastery before progressing in LearnDash. You can think of this as a knowledge checkpoint. Before it was so clunky. Now we have straightened up this experience. No more "What do I click on next" from the students. Just follow the yellow brick road, so to speak.
This works great for Surveys (Assessments) too. Now the student has no idea the survey is actually a quiz. Our plugin works for quizzes that are associated with a lesson or topic. Once the plugin is installed and activated it's very easy to configure quizzes.
Go to LearnDash LMS->Quizzes->Settings and activate the global options and set your required global options. That's it. No shortcodes are needed. How easy! To override global options on a Quiz by Quiz basis, go into a single Quiz->Settings and override the default global settings. (See images below)
Please Note: LearnDash does offer you that ability to add Quiz Shortcodes to your course content. But unfortunately the UI is not very user friendly. Our plugin eliminates the need to add Quiz Shortcodes to course content.

We notice that LearnDash displays message "Please go back and complete the previous lesson" when: Shared Course Steps is turned OFF and lesson has inserted associated Quiz shortcode. This issue happens regardless the Quiz Embed is installed on the site. Since Quiz embed uses Quiz shortcode functionality the Shared Course Steps ought to be turned ON.

Quiz Retake Message
On a per quiz basis you can control the number of quiz retakes that a user can take. If you add a limit on the number of retakes allowed, a message appears when all attempts have been exhausted. By default this message will not show when using Quiz Shortcodes in course content. If you wish to show the message to the user then you need to activate "Show Quiz Retake Warning" in the the Quiz Embed global options.

GLOBAL SETTINGS
LearnDash LMS->Quizzes->Settings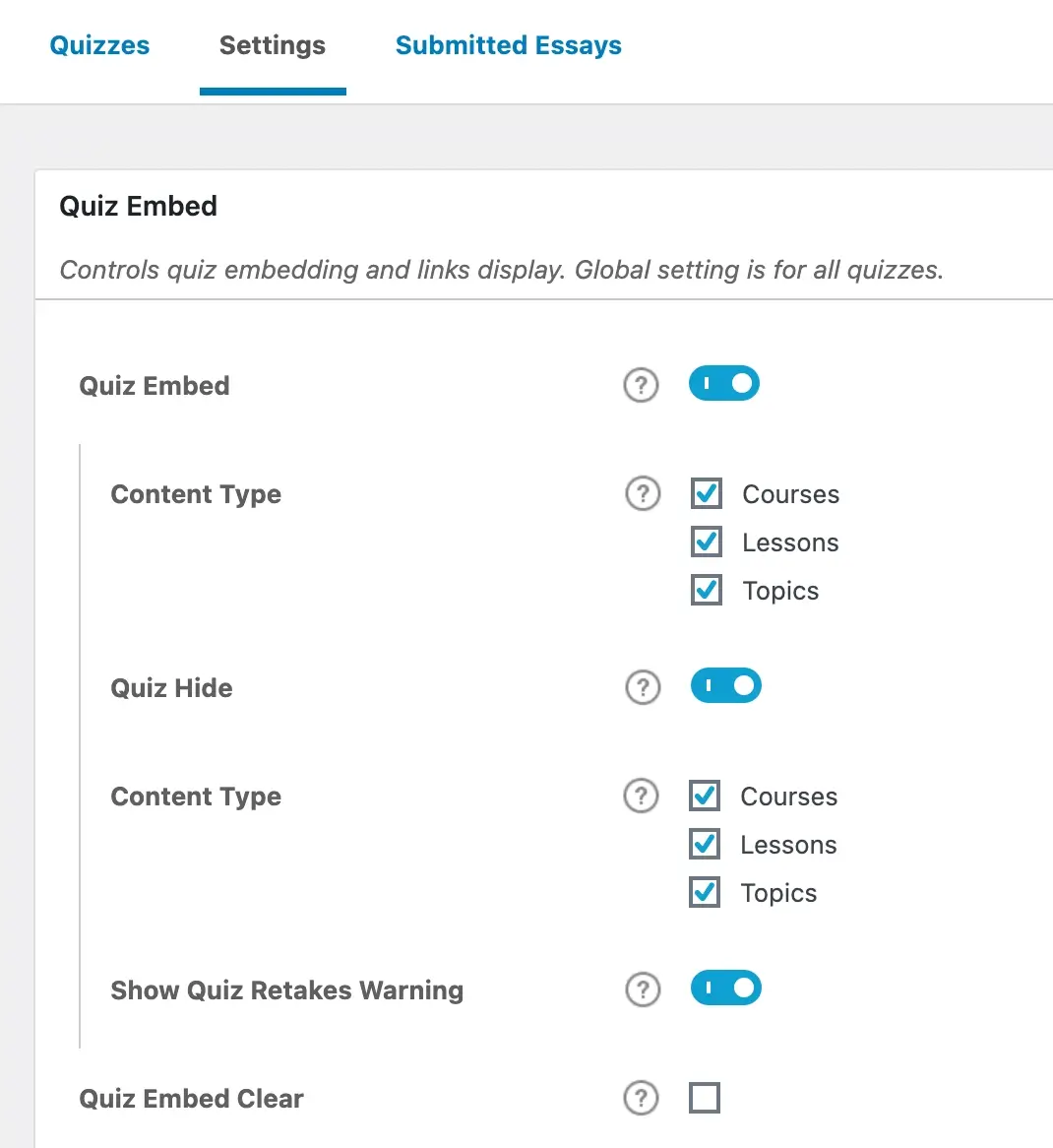 QUIZ OVERRIDE SETTINGS
LearnDash LMS->Quizzes->Quiz->Settings