Generate Unique Certificate ID's on all Your LearnDash Certificates with the Certificate Tracker for LearnDash
Most professional training providers in the Educational, Medical and Real Estate sectors generate unique numbers on their students certificates. This is required to validate if the student is indeed the student who completed the relevant training. Our certificate tracker will add unique certificate ID's to both LearnDash Quiz and Course Certificates.
$29.99
(1 site, Lifetime Licence)
LearnDash updated the certificate rendering last month and quite frankly broke it. As a result of their "fix" the QR code tends to be bigger than it should and causes the certificate in many cases to "overflow" unto a second page. We also suggest you do not use any "Legacy TCPDF add-on" they may offer. We suggest that instead of a paragraph tag being used in the certificate to use a table cell instead. This is our newly updated code that we use on our certificate on our site
<td width="100">[su_qrcode data="https://elearningcomplete.com/certificate-verification/" title="Certificate Validation" size="200" align="center" link="https://elearningcomplete.com/certificate-verification/" color="#1a212c" background="#ffffff"]</td>
---
How Does the Plugin Work?
After activating the plugin and a user renders a certificate on the front-end. It will look in the database to see if the Certificate ID exists. If it does not exist, it will create a permanent Certificate ID in the database for you. If administrators "permanently delete the users course data" at the backend. The record will still remain in the database.
If the user retakes the course, a new certificate ID will be generated and saved. Keeping the previous record intact. This is excellent for courses that require periodic "recertification".
Install and activate the Certificate Tracker for LearnDash plugin.
Add the following shortcode to your certificate [elc_certificate_id]
This will generate a unique number that will look like this:
(1581318020-11206-1)
If you wish to show a prefix on your certificate add the following shortcode to your certificate. In our example we added ELC.
[elc_certificate_id prefix="ELC"].
This will generate a number that will looks like this:
ELC-1581318020-11206-1.
---
Not sure if the Certificate Tracker is right for you!
Take a test drive today, enroll on a FREE course and earn a valid certificate.
---
Need anyone to verify if a student has a valid certificate?
Learn more about the Certificate Verifier for Learndash which adds a search validator on your site. The Certificate Verifier is our addon plugin that adds a search box to your website. This allows anyone to verify the authenticity of a users certificate. The users certificate ID is manually typed revealing the true owner of the certificate in question. We also offer a QR Code integration. Scanning a barcode on a certificate, will open the verifier page on a mobile device etc.
Read more about the addon here…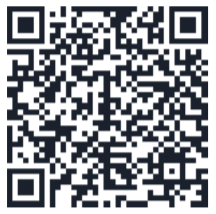 Scan QR Code